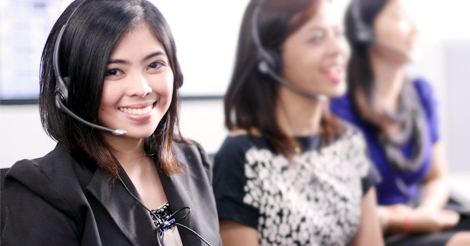 According to the Global Trends in the Contact Centre Market and Opportunities in the Philippines report by the Everest Group, the country is the leader in the offshore/nearshore English
Contact Centre Outsourcing
(CCO) market with some 36% share. Out of the US$300 to $350 billion total world spending on contact centre services, 20% is outsourced.
The Global CCO market is targeted to grow at 6 to 8% in the next 3-5 years, while the offshore CCO market at 10 to 12%. Having surpassed India as the number one voice outsourcing destination, the Philippines is forecast to grow at least 15% annually over the next five years. Its current growth rate has been close to 20% in the last five years.
The country's exceptional performance can be attributed to the workforce's linguistic advantage and affinity to American pop culture – a positive impact of an almost 50-year period of American colonisation in the Philippines. Combined with comprehensive training in finance and accounting, the Philippines is now also equipped to take the reins in the Finance and Accounting (FAO) and Global In-house Services (GIS) in the non-voice Business Process Management (BPM) sector, with a market size of US$3.6 billion and growing at 22% annually.
Meanwhile, the Healthcare Information Management Services sector is set to break through the US$1 billion mark in 2015, employing close to 90,000 professionals. The Animation Services segment on the other hand is already experiencing growth in the freelance community.
The IT-bpo industry is currently expanding out of Metro Manila, stretching into the regions outside NCR, such as Cebu City and Lapu-lapu City in Central Visayas, Baguio and Ilocos Norte in Northern Luzon, Clark and Olongapo/Subic in Central Luzon, and Santa Rosa towards south of Manila.
In an industry forecast by a UA&P industrial economist, the total industry growth per year in the next five years is projected at 14 to 20%, bringing the total earnings to more than US$40 billion by 2020. It is expected that the full-time employment level will reach two million by that time.
With industry growth imminent, the Philippines is clearly looking at a higher level of economic wellbeing.
Source: https://ph.news.yahoo.com/future-bpo-kpo-industry-212731380.html