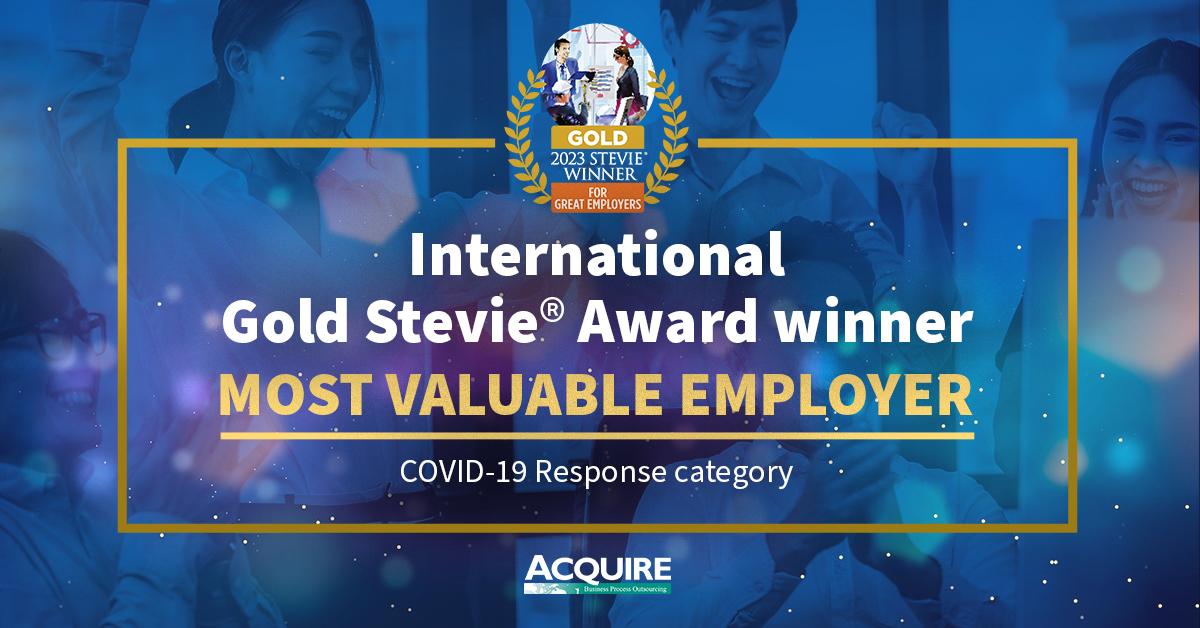 In a time when businesses and organizations worldwide grapple with unprecedented challenges, there are those who roll up their sleeves and work extra hard to ensure nothing gets in the way of delivering topnotch customer experience without compromising the health and safety of its most important asset: its people.
Acquire BPO proves once again how much it values its people by being recognized for its efforts in ensuring all employees remain safe, healthy and employed during the COVID-19 pandemic. The company adds another achievement to its already impressive track record by winning the Gold Stevie® as Most Valuable Employer at the recently held 2023 Stevie Awards for Great Employers.
An Award of Significance
The Stevie Awards for Great Employers aims to honor and recognize global organizations—human resources professionals, teams and suppliers that help create great places to work for. Considered as the world's premier business awards, it attracts more than 12,000 nominations each year from as much as 70 nations.
This makes the achievement all the more significant—to be honored as having one of the best health and safety measures in the world. To be recognized in a platform as prestigious as this speaks volumes about the company's dedication to the well-being of its workforce.
Winning a Gold Stevie® in this segment is no small feat, and it underscores Acquire BPO's proactive, compassionate, and effective approach in navigating through the COVID-19 crisis.
Acquire's COVID-19 Response: Safety Above All
While many companies struggled with the immediate impacts of the pandemic, Acquire swiftly put into action a series of measures aimed at ensuring the safety and well-being of every single employee.
Through effective collaboration, all departments involved were able to put together a working system that guaranteed business continuity without compromising the health and safety of our people.
Understanding that the health of their employees was paramount, the company invested heavily in safety protocols, health checks, and sanitization methods to create a secure and safe working environment.
Comfortable living quarters were also set up for employees who needed to work onsite with essential provisions taken care of.
Safety guidelines and policies were put in place; a BCP Resource Center as well as hotlines in each global location were set up for streamlined dissemination of vital information.
Moreover, the company provided free vaccination for all employees. But it didn't stop there. Acquire donated more than 10,000 doses of Moderna vaccine to the Quezon City local government, one of the areas we operate in here in the Philippines.
At a time when furloughs and layoffs have become commonplace, Acquire has demonstrated how companies can sustain employment through engagement models, like Acquire@Home, that enables continued operations despite unexpected events, like the pandemic.
All of these show that in times of crisis, companies are tested not by their profitability but by their values, resilience, and their commitment to their people. Acquire BPO has proven that with foresight, adaptability, and a people-first approach, it is possible to overcome even the most challenging circumstances.
The Gold Stevie® Award is not just a recognition of Acquire BPO's achievements during the pandemic. It is a celebration of every employee, leader, and stakeholder who stood together, faced adversity head-on, and emerged stronger than ever.