Automation & AI
---
We provide end-to-end solutions—from consultancy to design, implementation and maintenance of your automation operations—to deliver the cost savings you need to stay ahead of the game.
Robotic Process Automation (RPA)
RPA is revolutionising the way companies do their businesses, capable of speeding up processes and tasks run time up to 76%. Make the most of what RPA brings to the table. Leave the hassles of repetitive tasks to server-based or agent-driven bots at lower cost.
Chatbot/Virtual Agents (VA)
Customer engagement mechanisms define how companies provide great customer experiences. In the race to deliver the best CX, more and more firms are now turning to automated chatbots across all channels. Chatbots are predicted to drive up to 85% of all customer service interactions come 2020. Provide optimal customer experience as you boost customer engagement with self-service capabilities.
Voice biometrics
What if you had the technology to improve security using a person's voice? With our voice biometrics solution, you can confirm the identity of customers without asking them, based solely on a caller's unique voiceprint. Equip your business with regulations- and standards-compliant voice recognition technology.
Speech analytics
Improve customer calls, leverage trends and optimise your business processes based on tracked data. Our speech analytics solution gives you access to automated, intelligent insights based on call trends, keywords, phrases, tone and sentiment. With speech analytics, we give you the power to read into speech and make effective, data-driven process adjustments and call decisions.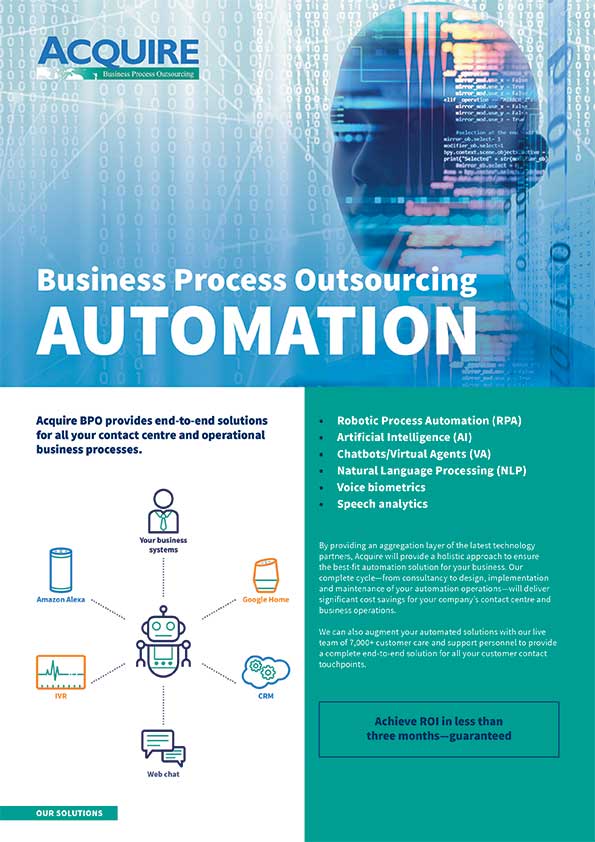 Integrate automation and achieve fast ROI
At Acquire BPO, we'll work with you to map out your customers' needs, provide the tools to automate and optimise self-service and workflows—combining technology with the right human touch to deliver successful outcomes
Download