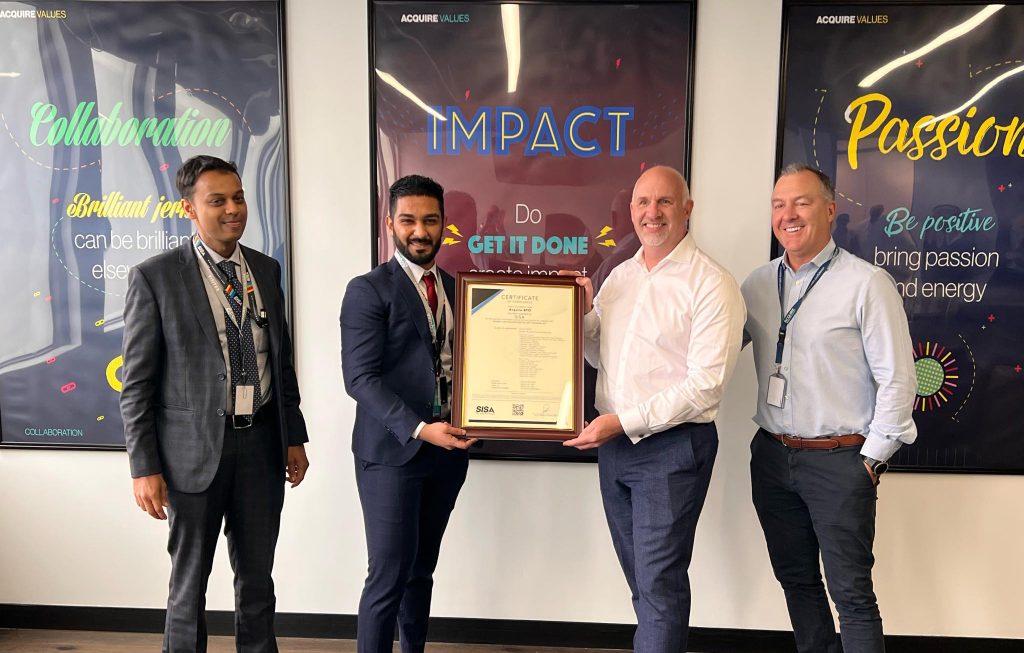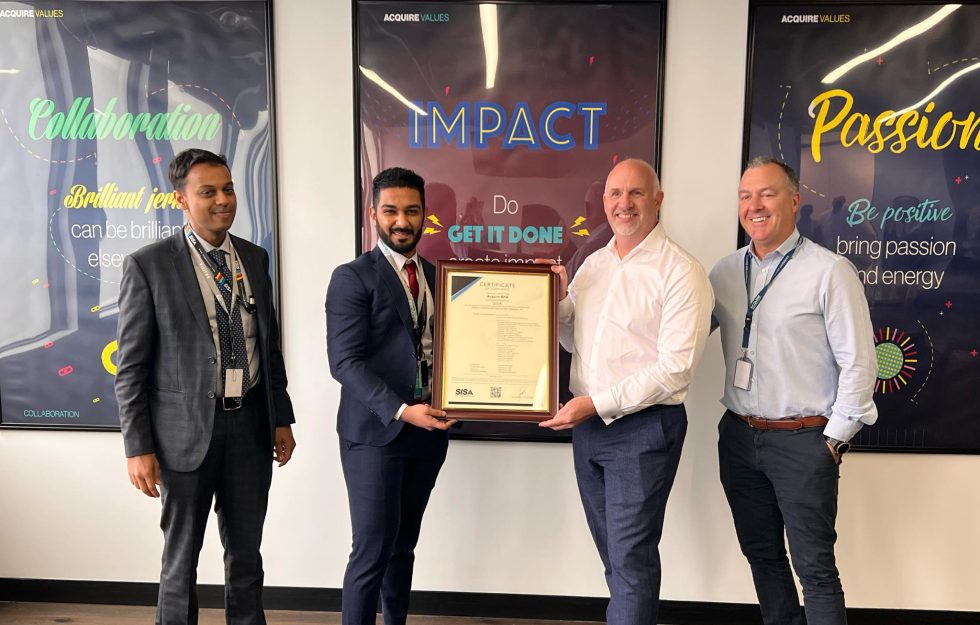 Acquire BPO is pleased to announce that we are now officially certified as compliant with the Payment Card Industry Data Security Standard (PCI DSS) version 4.0.
Chief Operating Officer Matt Carracher and Chief Technology Officer Andy King received the certificate from SISA Founder and CEO Dharshan Shanthamurthy and Principal Consultant Prajwal Gowda at a ceremony held at our Melbourne office on March 24, 2023.
The certification is a testament to our commitment to maintaining the highest level of security and compliance for our clients and their customers.
"As a company that values and prioritises data security, we welcome the new PCI DSS 4.0 security standard. We jumped at this opportunity to be one of the first to seek global certification quickly to strengthen our commitment to protecting our clients' information and continuously improve our security measures," says Chief Executive Officer Scott Stavretis.
The new version of the PCI DSS standard introduces several enhancements that will help strengthen our preventive measures against emerging security threats.
PCI DSS version 4.0 replaces version 3.2.1—allowing us to provide more innovative ways to combat new threats.
Compliance to these security standards is one of the most stringent and coveted in the industry today. Which is why we take immense pride in being the first known BPO to globally receive this certification.
PCI DSS is a set of security standards established by major credit card companies aimed at protecting cardholder data and sensitive authentication data wherever it is processed, stored or transmitted. Compliance with these standards helps reduce the risks of data breach and allows companies to identify workarounds in the event of a security breach.
As a trusted provider of customer experience and business process outsourcing services, Acquire BPO recognises the importance of safeguarding the trust of our clients and their customers. Our compliance with the PCI DSS standard is just one of the many ways we demonstrate our commitment to security and compliance.
Stavretis further adds: "With the ever-evolving landscape of cyber threats, compliance with the latest standards is crucial in ensuring the safety and trust of our clients and their customers."