Acquire BPO has enjoyed significant growth and success since it first opened its doors in 2005. Jonathan Jackson speaks withAcquire BPO 's general manager of sales Kathryn Marshall about the organization's global achievements.
The correct business strategy and structure are the foundation of business values and success. If you haven't put time into your structures before launching a business, then it is likely that performance will be jeopardized from the outset.
Good, successful businesses base their success on those structures. Acquire has been successful because founder Scott Stavretis had the basics right to begin with.
Stavretis has a history of successful operations management, having been previously responsible for the executive management and operations of the Dodo Australia. He played a pivotal role in Dodo's growth into Australia's largest private telecommunications group.
So when he set up Acquire, he did it with operations in mind.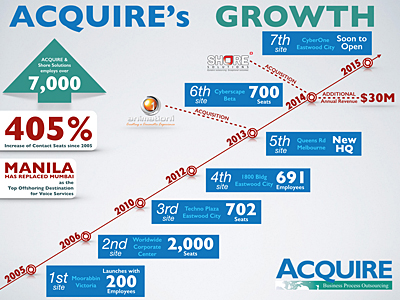 "Scott and his business partner set up Acquire properly from the outset," says Acquire's sales manager Kathryn Marshall. "Due to their background in telecommunications, they set up Acquire to supply telecommunications offshoring functions. Then as the offshoring industry diversified, so did the business."
Acquire diversified from telecommunications to finance, retail, banking insurance, media and education.
"Our growth was organic because we had the systems, structures and infrastructure in place to ensure clients were well serviced," Marshall says.
The service began with call center operations but as clients grew so did the service offering and pretty soon Acquire was taking care of customer service, sales, technical support, retention campaigns, network operations, back-office functions, software development and marketing services which it provides to a range of private and publicly listed companies around the world.
What attracts clients, who include the likes Flexigroup, M2 and Ring Central to name a few, is that the offshoring sites are well built and there is a strong operations team in Australia, the Philippines and the US.
The strength of the Acquire team is a draw card.
"We have a strong management team in the Philippines," Marshall says. "The confidence in this team gives our clients comfort in knowing they will be well supported.
"We have a very core key management team, who have worked together for a long period of time through other businesses as well."
Marshall says that most clients would know the CEO personally and it is that ability to build relationships that has contributed greatly to the company's growth, not only in sites, but in clients as well.
"If clients have had a bad offshoring experience they will turn to Acquire. They know we are reliable and open to them. When we do tours of our sites, it is often our clients who are doing the sales work for us. This is because they know we offer a direct experience and we can answer the difficult questions they may have. People can get nervous when it comes to offshoring, however we are able to allay their fears and keep them happy enough to recommend us to others."
Acquire has a total of five sites in the Philippines with 4,300 employees. Since 2005 total contact seats in the Philippines has grown by 405 per cent. A new facility in Ortigas Business Center in Manila is expected to assist in bolting on an additional USD$30m annual revenue to Acquire's current operations. This center will increase Acquire's production space in Manila to over 16,000 sqm.
Those are encouraging statistics for any potential clients who are considering Acquire as their offshore provider. Growth is continuing through strong relationships and the team's ability to deliver service and solutions. By 2016 it is expected that 1.3 million Filipinos will be working in the BPO industry .
By next year, Acquire is looking to have six sites up and running "We've seen a great demand for our services globally," Marshall says. For Marshall this will mean a busy 2015, however she is looking forward to it. The fifth site will soon be operational and the sixth is in negotiation. The sales team will also expand. These are exciting times ahead for Acquire, whose foundations have set the tone for its continued expansion.