Developing seamless customer journey with advanced Offshore BPO solutions 
Updated 21 November 2019. Businesses are now more aware of the competitive advantages that offshore BPO solutions can offer. Recent technological innovations have strengthened the level of service that BPOs can provide, going beyond the typical contact centre set-up. Brands are now partnering with BPO providers to adopt automation and omni-channel strategies to deliver better customer experiences.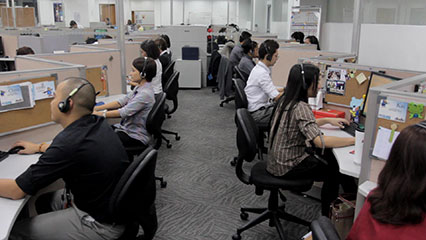 Approximately 57% of customers prefer to engage with brands via social media, email, apps and other digital platforms. And a good 87% agree that brands should put more effort in providing a seamless customer journey. Businesses must realise that the perfect time to answer an enquiry or close a sale is always in real time–often, a minute late is already too late. An omni-channel approach allows brands to be present and available wherever and whenever their customers need them to be. 
The core of a customer-centric approach is the right mix of people and technology. One way to bridge the customer support gap is automating non-core, repetitive processes and reallocating people to higher value tasks such as analysing machine-driven data. This collaborative approach can effectively boost customer experience and brand confidence. 
The ever-evolving customer journey will always require businesses to adapt and integrate systems and processes that will match their customer's lifestyle. Products and services should always be designed around what the customers need and the key to achieving this is collaborating with the right offshore BPO Solutions
partner. 
—
Offshoring is no longer a dirty word; it is in fact a legitimate way to run efficient businesses. Jonathan Jackson examines the trend of offshoring and its associated benefits. 
The 21st Century workplace has changed. What was once an inflexible nine-to-five work environment has become a 24/7 global marketplace suiting both employer and employee. In the last decade we have seen a trend towards contracting, to modified work hours, to home office set ups and several other initiatives designed to increase productivity and employee engagement, while reducing costs. 
If implemented correctly, these initiatives can have a positive impact on the work environment and a company's bottom line. Companies should also be looking into offshoring beyond labor arbitrage. 
In the past people have associated offshoring or outsourcing with call center harassment, however what many people don't realize is that offshoring goes beyond the telemarketers that may be calling you at dinner time. In fact true offshoring means that systems, skills and efficiencies are being delivered by highly skilled professionals in different parts of the world who are dedicated to a company's cause, reflect their values and come at a cheaper cost. 
Take the industrial services industry for example. According to Frost & Sullivan, a global growth consulting firm, the industrial services market is expected to shape new business models of major industrial vendors. The evolution of the manufacturing processes is emphasizing the need to improve plant profitability while reducing downtime. This will be done, in part, through plant offshoring. 
"The trends of plant outsourcing and value-added services have disrupted traditional business strategies of industrial vendors, resulting in major transformations across the value-chain," said a Frost & Sullivan representative. 
Globalization has also opened up workplace practices and in terms of offshoring; the workplace is now a global environment. 
In fact offshoring is reaching a range of industries. This country's multinationals have been on the bandwagon for many years, however SMEs, previously slow to the uptake, are now finding value as well. This is because, in an increasingly competitive business landscape, with rising employment costs and flexible business models, offshoring providers have become key drivers behind an organization's growth. In turn, this has allowed offshoring providers to expand operations and offer further services. 
Providers such as Acquire BPO have experienced enormous growth as clients look to cut costs, and also access a knowledgeable skill base, expand global reach and scale their business as new custom is created. 
Acquire BPO 's client list is a who's who of business: M2, Flexigroup, Ring Central, Lombard Finance, Red Bull Mobile and many others have used their offshore services because they have recognized that industrial working concepts may be outdated. 
According to Airtasker's Tim Fung, "The mechanisms for employing people and for accepting work are still based on old industrial concepts – the system is out of date; it's a different system for a different age." 
Airtasker, which has a local online focus, offers a different model, however the value of offshoring is the same. This is a business that breaks down the rigid and inflexible traditional employment structures by efficiently connecting individuals and businesses that need to get something done. 
"Savvy businesses of all sizes are using an outsourcing model to access a connected, distributed labor market that can be instantly mobilized to help with marketing promotions (flyer handouts, telemarketing), market research, events, website content creation, office admin," Fung says. 
As mentioned it's not just big business that has benefitted. Take Sunshine Coast entrepreneur Mark McRae for example. It is estimated that McRae has hired 1,300 people and generated $280 million in online and offline sales for his businesses. He says, "Outsourcing can give you access to a dizzying array of highly skilled professionals from all over the world. For example, to produce a professional documentary, I hired a script writer in the USA, a film crew from Canada, a post-production team in Croatia and editor in Serbia." 
Ben Lamb is operations manager at Flexigroup and a client of Acquire. He says, "As past winners of the ATA Best Contact Centre of the year, it was important we find the right partner for our offshore operations that shared our vision of delivering the best customer experience. We are pleased to have found this with Acquire and look forward to a long relationship." 
A recent article in B&T magazine stated: "Outsourcing back office functions such as administration and finance support from places such as the Philippines enables Australian companies to put their time and resources into hiring more people in roles designed to grow the business, such as sales or marketing." 
The advantage of today's offshoring model is that the provider becomes an extension of a client's own organization. The provider frees up time and cost and allows the client to focus on areas of the business that may have been neglected or require further attention. 
In the digital age, offshoring is easy and there is no reason to continue to hold an industrial mindset in your embrace.