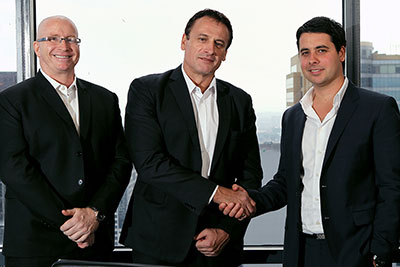 Acquire BPO
has recently completed the 100% acquisition of Shore Solutions Inc., one of the fastest-growing BPOs in the Philippines, adding approximately 2000 employees to provide a full suite of outsourcing operations for major corporations located across Asia, Australia, the United Kingdom and the United States.
This is the second acquisition by Acquire in less than 12 months and fortifies their strategic plans to accelerate growth as well as increase market share in the BPO companies .
Scott Stavretis, CEO of Acquire BPO and Shore Solutions, says "The acquisition of Shore offers several exciting opportunities for Acquire in diversifying our current service offering and bolstering our revenue. In particular, Shore is a market leader in the BPO side of the business with strong expertise across Human Resource Outsourcing (HRO), Knowledge Process Outsourcing (KPO), IT and Professional Services, and this really complements Acquire's outsourcing capabilities. Shore is also a Value Added Reseller of SAP-SuccessFactors HCM cloud technology and we are delighted to add this to our service offerings. Shore's Contact Center division has grown rapidly over the past three years and services a range of clients across the globe including some very large well-known household brands."
"Acquire and Shore share a commitment to customer satisfaction with Shore's business excellence approach mirroring Acquire values. The strong employee culture and evolution of Shore to a multifaceted BPO makes them a great fit for Acquire."
The Acquire executive leadership team will also be enhanced with the addition of two new members from the Shore team. Stavretis states "I am extremely pleased that the current executive directors of Shore, Darcy Lalonde and Jonathan Smith, who are both well-respected industry leaders, have committed to the future of Acquire and Shore, leveraging the combined groups' experience. Additionally, Acquire's capital can enable them to continue the rapid expansion of Shore's contact centre and BPO business."
Darcy Lalonde, Shore CEO, adds "We are extremely excited about this acquisition, which illustrates Shore's commitment to investing in people, processes and tools to provide our clients with the best quality services. Our client focus and operational excellence remain our clear differentiators. This acquisition signifies growth for Shore and the ability to deliver service with stronger capabilities and improved efficiencies. Our clients can expect a more robust portfolio, a comprehensive strategy with numerous growth opportunities and synergies from efficiency and scale."
This acquisition will scale the Acquire employee numbers to about 7000 globally. Plans for future acquisition activity, as well as current strong organic growth of both businesses, position Acquire to be a strong disruptor to the competitive landscape in the https://acquirebpo.com/blog/attracting-and-retaining-women-employees-in-bpo-companies/.
Media Contact:
Scott Stavretis
Acquire BPO and Shore Solutions CEO
+61 3 9956 0000
www.acquirebpo.com
About Acquire BPO
Established in 2005, Acquire provides contact center and BPO services for a wide range of industries including telecommunications, banking and financial services, insurance, media, education and retail. Acquire has enjoyed exponential growth in the past several years with 5000 employees worldwide and operations in seven state-of-art facilities in Australia and Philippines servicing a global client base of private as well as publicly listed companies, including Fortune 500 companies. Acquire expanded portfolio of services include customer service, sales, technical support, retention campaigns, network operations, back-office functions, software development animation and marketing services. Visit https://acquirebpo.com for more information.
About Shore Solutions Inc.
Shore Solutions started as an advisory consulting business in 2005, eventually evolving to deliver BPO and Contact Center services in 2010 and IT & Professional Services in 2012. In 2014, SHORE was appointed Value Added Reseller (VAR) for SAP- SuccessFactors Human Capital Management (HCM) technology. Distinguished by its client focus, operational excellence and flexible engagement models, SHORE has also been recognized as one of the fastest growing BPO companies in the Philippines. Visit https://shoreoutsourcing.com for more information.