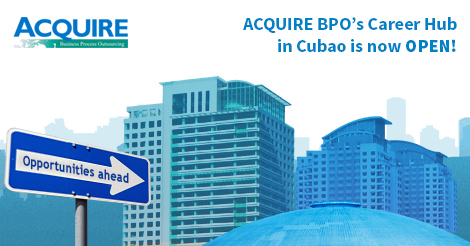 Acquire BPO opened its fourth recruitment facility at Gateway Tower, Araneta Center in Cubao, Quezon City. This launch comes a few weeks after the opening of its third recruitment facility at Robinson's Cyberscape Beta. The modern hubs are equipped to handle dozens of applicants who go through a quick recruitment process.
Acquire has been ramping up its search for globally competitive talents to address the needs of its growing clientele from the thriving business process outsourcing market. Acquire strategically located its hub in Araneta Centre, which is a commercial magnet that draws a million visitors daily. It has direct access to many modes of public transportation with metro rail and bus stations connected via walkways. Applicants will find it easy to explore opportunities in this prime retail and commercial location that is also very close to Acquire's Eastwood and Ortigas sites.
Growing family
Acquire started with 200 employees in 2005. In a decade, the company has expanded to 7,000 employees and is poised to grow to 10,000 this year. Acquire hires 100 persons per week, and between 400 to 500 new employees every month.
By improving its online and digital marketing efforts, Acquire has been able to achieve sustainable growth and expand its market reach, drawing target applicants to visit its recruitment centres in strategic locations. The four recruitment hubs are expected to process the volume and quality of applicants the company needs to reach its growth goals.
Choose your career
Acquire is for individuals who know what they want and are serious about building a career, not just finding a job. The company makes it easy for employees to climb the corporate ladder by presenting flexible and varied employment options. Agents or specialists may choose to work the night or day shift in any of the following convenient locations: Quezon City (Eastwood), Mandaluyong (Shaw Boulevard), and Pasig (Ortigas). Professionals may choose to build a career in any of Acquire's many client functions: customer service, sales, marketing, technical support, financial services and back office work.
Room for professional growth
Acquire is an equal opportunity employer that provides those who possess the qualifications and attitude with opportunities for professional growth and development.
Individuals interested in exploring new career options with Acquire BPO may visit 5/F Gateway Tower, Araneta Center, Cubao, Quezon City. You may also visit the Ortigas career hub at the Mezzanine floor, Robinsons Cyberscape Beta, Topaz and Ruby Roads, Ortigas Center, Pasig City. The other career hubs are located at U/G Level Worldwide Corporate Center, Shaw Blvd., Mandaluyong City and 6/F 1800 Building, Eastwood, Libis, Quezon City.