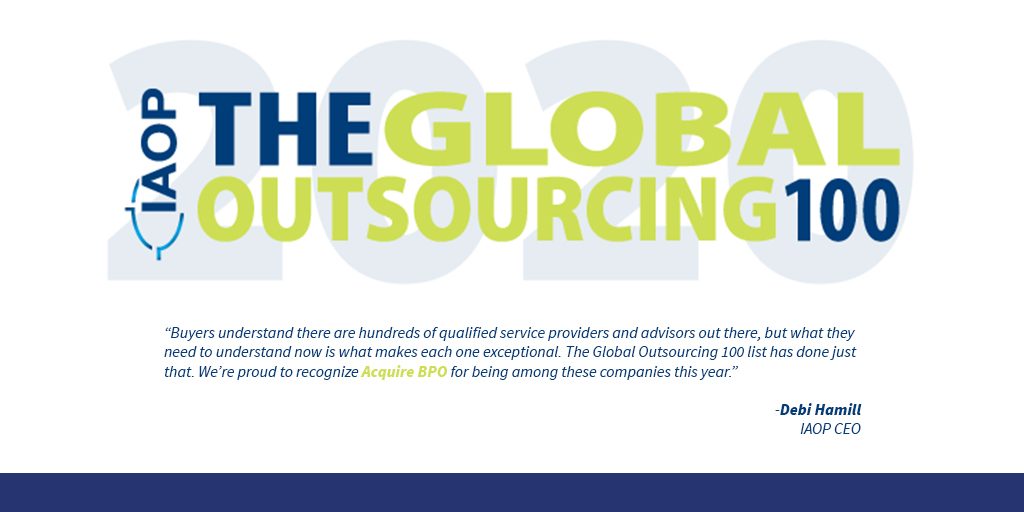 Acquire BPO has once again been honored by the International Association of Outsourcing Professionals® (IAOP®) with a spot on its 2020 Global Outsourcing 100® list—for the fourth consecutive year in the 'Leader' category. The Global Outsourcing 100 list comprises the best and most innovative companies that are shaping the global outsourcing industry. IAOP announced the GO100 list today and will recognize the winners at the Outsourcing World Summit on February 19 in Orlando, Florida.
"Consistently placing as a leading industry player in the IAOP Global Outsourcing 100list makes us proud," says Acquire CEO Scott Stavretis. "We work hard to drive success for our clients every day. We have talented people, operational expertise, investments in technology, modern facilities, a spirit of continuous improvement and a values-driven culture. All these combine to make our clients feel safe and confident in partnering with us." 
"Companies that outsource, not only in the traditional sense but also through the wide array of the ever-changing collaborative business models, are scrutinizing their providers very closely, which is why choosing the right partners is more important than ever," said Debi Hamill, IAOP CEO. "The GO100 is the definitive guide to help companies research and compare service providers with whom they are considering relationships."
In 2019, Acquire was listed on the IAOP® Best of GO100 as an industry top achiever and was the only Australian company on the list. Other awards last year included a Silver Stevie for Company of the Year, Large category at the International Business Awards, BPO of the Year and Honourable Mention at the Customer Contact Week Excellence Awards.
IAOP is the global association that brings together customers, providers, and advisors in a collaborative, knowledge-based environment that promotes professional and organizational development, recognition, certification, and excellence to improve business service models and outcomes. Their members and affiliates worldwide are digging deep at IAOP conferences, learning at IAOP chapter meetings, getting trained and certified at IAOP courses and workshops, and connecting through IAOP social media, all with one goal: better business results.
See the complete IAOP 2020 Global Outsourcing 100 list here.