For business leaders, the old adage that you should be working on the business not in the business has led SMEs and major corporations alike to investigate the value of offshoring. Acquire BPO CEO, Scott Stavretis, explains.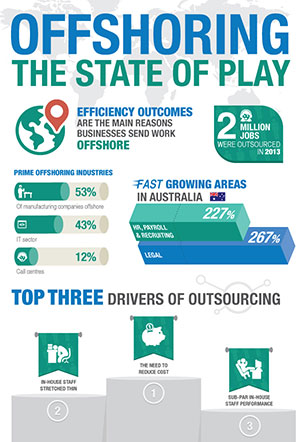 In the past few years, offshoring has gained a great deal of traction among large and small businesses who realize that cost saving and skill upgrades can be placed in the hands of experts who will free up their time to focus on more internal business functions.
When you look at global offshoring statistics, it is clear that more and more business leaders are finding value in sending certain skills offshore.
According to startupsmart.com.au author Rose Powell, "fast growing areas that Australians are outsourcing include human resources/payroll and recruiting, which both grew by 227%, and legal which grew by 267%."
This is a global trend. In the US, education provider Udemy found that in 2013 alone more than two million jobs were offshored globally. Udemy author Lisa Selvaggio says, "if we break those statistics down further, 53% of manufacturing companies have used offshoring, while 43% of the IT sector and 12% of call center jobs are also sent offshore.
The drivers for this trend are usually a reduction in costs or headcount, internal capacity constrained by increasing market demand, or insufficient internal service performance.
Parallel to the rise of companies looking for better efficiencies is the rise of service providers who can facilitate the services required.
Acquire BPO is riding this rapid growth in offshoring services. Founded in 2005, we recognized there was a lack of offshoring providers offering high standard solutions. We have since evolved into a full scale offshoring contact center and BPO enjoying exponential growth year on year mainly from client referrals.
Today, Acquire employs over 4,700 experienced professionals and operates seven state-of-the-art contact centers across Australia and the Philippines. We facilitate a wide range of industries including telecommunications, banking and financial services, insurance, media, education and retail. These services, adapted for companies around the world, include customer service, sales, technical support, retention campaigns, network operations, back-office functions, software development and marketing services.
Acquire has enjoyed rapid growth because we offer a complete suite of services. However, there is more growth to come. Most businesses today must catch up with their competitors – including mid range public listed businesses – that were early adopters of the offshoring solution.
Offshoring is a global movement and Acquire wants to play a major role in the growth of this movement.
We already have an enormous presence in the Philippines and, in fact, we have recently expanded our operations in Manila.
The expansion is driven by Acquire's rapid growth in the Philippines as a result of winning several new multinational clients. The new facility will increase Acquire's production space in Manila to over 16,000 sqm and will house clients growing offshoring demands for 24/7 around the world support, customer service and sales activity. The new facility will assist in bolting on an additional USD$30m annual revenue to our current operations.
We are also expanding into the US market. This move is strategically important from a location point of view as it allows Acquire to open operations where there is greater night capacity. The other advantage is that we can now open operations in neighboring Costa Rica and Mexico to provide a nearshore bilingual alternative for our US clients.
We have already done very well in the telecommunications sector in the US and in the past 12 months have increased our portfolio in other industries. It is our aim to continue to focus on and grow the Telco market whilst expanding our presence in other industries globally.
Acquire has also looked into expansion within the UK. This is a very attractive opportunity in terms of site occupancy, however we have found that this area is already heavily populated. Having said that we shall continue to identify niche segments to penetrate that market.
We have an organic and inorganic growth strategy. After the success of our Animation1 acquisition, we are looking to acquire further businesses that meet and expand our service offerings.
Animation1 is a leading animation studio servicing clients throughout Asia, Europe and the United States providing animation, TV commercials, and augmented reality services across a range of industries including, Architectural, Aviation, FMCG, Forensic Science and Medical. The acquisition brought Animation1 into the fold of our digital marketing arm and serves as an expansion to our current service offering.
We acquired what we believe is the best animation studio in Asia, specializing in creating animation content that requires the absolute highest level of accuracy and precision, which is why they lead the way in architectural, legal and scientific animations. The synergies from leveraging the Acquire shared services platform and access to our international client base and sales channels will propel the next phase of growth for Animation1.
Acquire is now looking for synergistic businesses to help us grow. The aim is to increase our staff numbers from 4,000 to 6,000 within the next 12 months and to add another three sites to the 6 that already exist.
Given the growing trend towards outsourcing, we believe we will comfortably meet our targets and further enhance Acquire's reputation as a major player in the offshoring space.