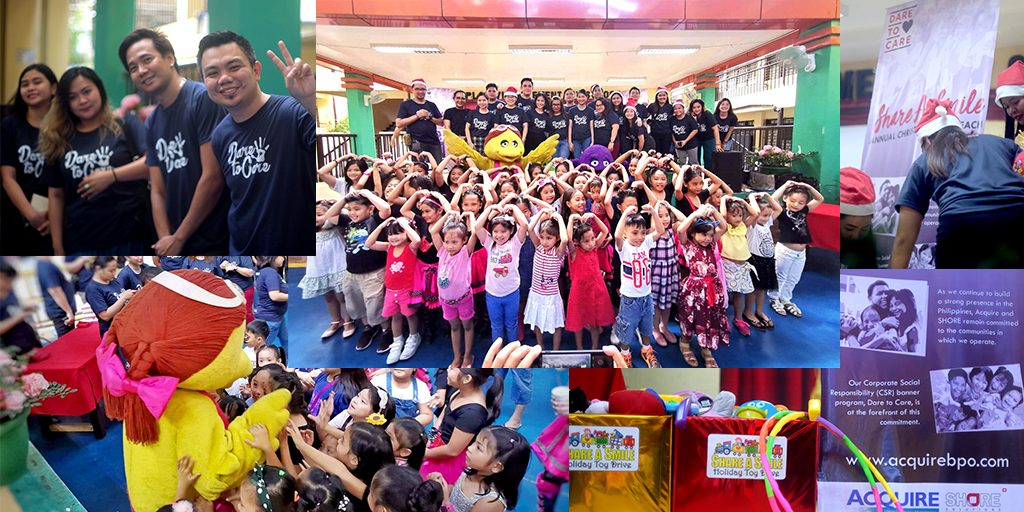 Sharing the A-life with the children at Plainview Elementary School 
"Your mind expands when you give, your heart expands when you share" – Matshona Dhliwayo 
The holidays were upon us and the merrymaking was in full swing. At Acquire BPO , we wanted to spread the cheer of the A-life a little bit more with our surrounding communities.  
On December 19, Acquire brought Christmas presents to the pre-schoolers of Plainview Elementary School (PES) in Mandaluyong City Philippines, as part of our 2019 Share-A-Smile Project 2019. We will also be able to renovate PES' Nursery Playroom, which will be launched in January 2020. 
Employees shared their blessings with the children by supporting the one–week toy drive across all Manila offices, where we were able to collect 300 toys for the kids! Along with the gift-giving, we also played games and the students showcased their talents during the event. School principal, Marvie Duran, gave the closing address with sincere words for Acquire's continuous support for their faculty and students. 
"It's heartwarming to see smile on their faces… and it's because of us. I'm happy we do this kind of initiative in the company," an Acquire employee volunteer shared. 
Established in 1964, Plainview Elementary School stands firm with a staff of 43 teachers, supporting 1,669 students from nursery level to grade six. 
Acquire's #DareToCare program is the official CSR banner of the company, which includes all corporate outreach programs and services. From fund-raising programs to playground rehabilitations, blood drives, disaster recovery programs, etc.