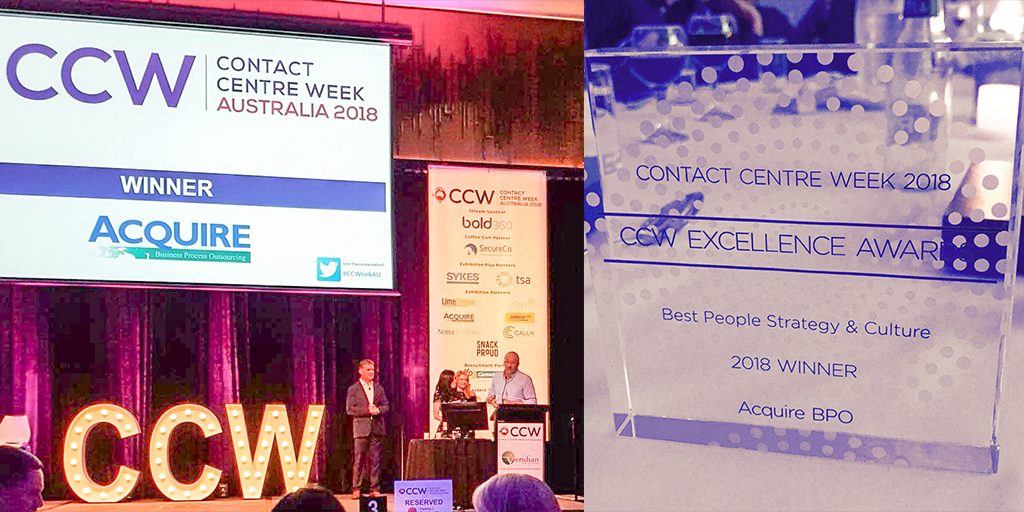 Acquire BPO won the Best in People Strategy & Culture award at the Contact Centre Week (CCW) Excellence Awards held 15 February 2018 at the RACV Royal Pines Resort in Gold Coast, Australia. The CCW Excellence Awards recognises and commends the efforts of the best contact centre teams and organisations, positioning them as thought leaders in the region.
With 7,000-strong personnel as its greatest assets, Acquire's recent win demonstrates its ardent commitment to continuous employee development while cultivating a fun and engaging workplace where great work never goes unrecognised. This latest accolade highlights the multi-awarded outsourcer's knack for keeping its highly competent workforce satisfied and well-trained, where employees' needs are heard and met at all times.
While Acquire takes pride in proactive process improvement and deeply ingrained culture of innovation, the company's most recent victory is driven by its eight Core Values: Ambition, Collaboration, Impact, Judgement, Leadership, Leverage, Passion and Transparency which are cascaded across all areas of the business, from recruitment to performance management. With solid, holistic people management strategies in place, Acquire is headed towards achieving more wins in the long run.