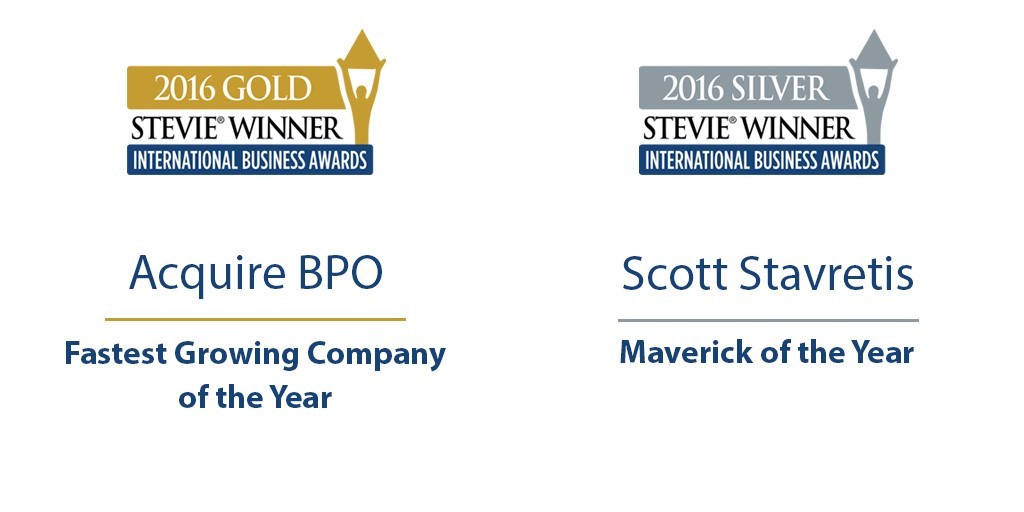 Acquire BPO
was named the winner of the Gold Stevie Award for Fastest Growing Company of the Year – Asia Pacific at the 13th Annual International Business Awards. Acquire's CEO, Scott Stavretis, was also awarded the Silver Stevie Award for Maverick of the Year. The awards will be presented at a gala banquet in Rome, Italy on 21 October.
The International Business Awards, nicknamed the Stevies, are considered one of the world's premier business awards programs. Over 3,800 nominations from more than 60 countries were submitted by individuals and organisations from nearly every industry—a record total for the awards.
Gold Stevie Award, Fastest Growing Company of the Year – Asia Pacific, Acquire BPO
Acquire grew from 4,000 employees in 2014 to 7,000 employees in 2015, making the organization Australia's largest outsourcer to the Philippines. "The company has also grown rapidly in a short 10-year time period, highlighting excellent growth strategies maintaining service standards," says one judge of Acquire's significant business growth and geographic expansion to North America.
Silver Stevie Award, Maverick of the Year, Scott Stavretis
"Scott Stavretis is an inspirational entrepreneur that has the strategic insight to take a business to a new level of success. His full-rounded approach to business is impressive and an example to be followed," says one judge of Stavretis' ability to take Acquire's 'Australian success story' to the global stage.
Stevie Award winners were determined by the average scores of more than 200 executives worldwide who participated in the judging process from May through early August. "This year's IBA judges were treated to many remarkable and inspiring stories of achievement around the world," said Michael Gallagher, president and founder of the Stevie Awards.
Details about The International Business Awards and the lists of Stevie Award winners are available at www.StevieAwards.com/IBA.
About the Stevie Awards
Stevie Awards are conferred in seven programs: the Asia-Pacific Stevie Awards, the German Stevie Awards, The American Business Awards, The International Business Awards, the Stevie Awards for Women in Business, the Stevie Awards for Great Employers, and the Stevie Awards for Sales & Customer Service. Stevie Awards competitions receive more than 10,000 nominations each year from organizations in more than 60 nations. Honoring organizations of all types and sizes and the people behind them, the Stevies recognize outstanding performances in the workplace worldwide. Learn more about the Stevie Awards at www.StevieAwards.com.