Tak
ing
 business
es
 to the forefront with BPO automation
Updated 20 November 2019. 
Today, 67% of consumers admit they have higher customer experience standards than ever, so the need for businesses to find new ways to stay competitive is even more pressing. The easier it is to interact with your brand, the more loyal your customers will become. 
BPO a
utomation
 could be 
your solution
. 
But adopting any new technology can be scary. What parts of your business can be automated? How will machines be integrated into your operations? Will robots replace your workforce? Automation, although intelligent and advanced, is best built with a 'human + bot' approach—a system built, analysed, trained and managed by humans at a much lower scale. Bots, for example, can be designed to meet specific business requirements and won't require a
n
 overhaul of systems and processes that are already in place. 
"Bots can be designed to link legacy systems, update information in one place and deal with the manual, repetitive data entry tasks in those disconnected legacy systems," 
explains 
Luke Woods, 
G
eneral 
M
anager
, A
utomation & I
ntelligence 
for Acquire BPO
. There are low-entry bots that businesses can use—with the accounts payable bot being the most common one. While speech analytics and voice biometrics are gaining traction from enterprises which receive and process huge amounts of data.
Research shows companies 
lose
 at least $1 trillion annually due to 
mismanaged leads and weak productivity—when there are high chances of conversion. 
In a recent study, integration of a chatbot within the customer support environment has reduced total chat volume by 74% in approximately 90 days of operation and provided customers with 24/7 online support. With a 25% decrease in live support hours and 40% of employees focusing on core tasks, businesses can save up to 60% on operations costs while boosting conversion. The instant replies and zero wait time from the chatbot 
significantly improved 
customer experience and loyalty. 
A fundamental transformation such as automation & AI integration requires not just the right technology, but also the right partner. "Getting and programming the right bot is just the beginning," Luke shares. "A lot of people think putting a bot in is enough, but the last thing you want is a lazy bot." Leveraging automation calls for a strategic approach – which goes beyond the discovery and implementation phases.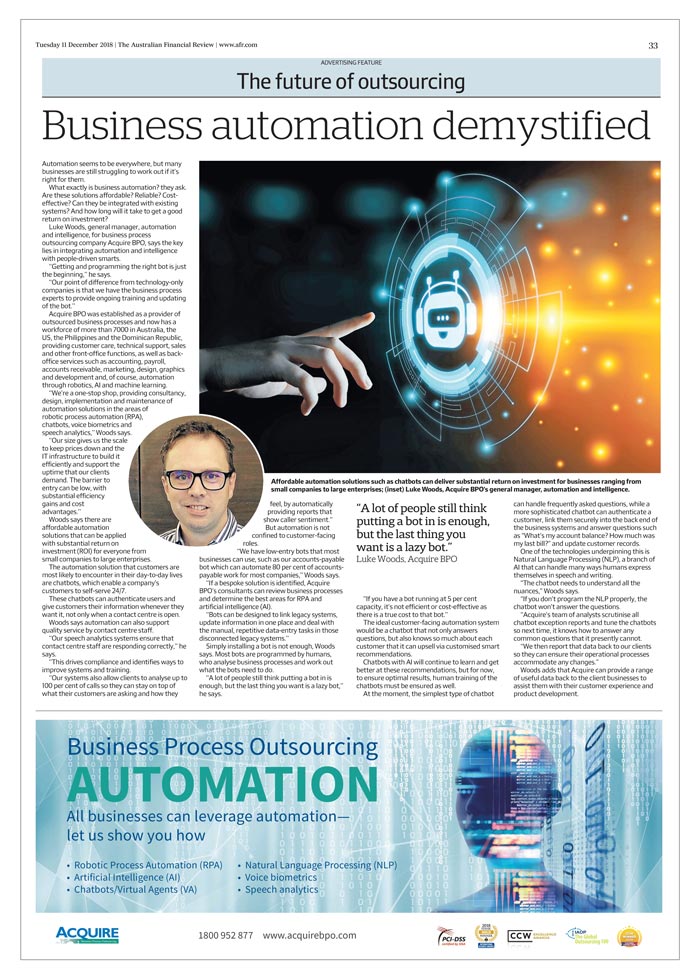 —
For Acquire BPO Automation and Intelligence General Manager Luke Woods, integrating 
automation and intelligence
 with people-driven smarts drives ROI for the long haul. Featured in the December 11 issue of the 
Australian Financial Review
, Woods delves into how automation and intelligence can help 
organisations
 deliver reliable customer service, as they do it in a cost-efficient manner.
"Our size gives us the scale to keep prices down and the IT infrastructure to build it efficiently and support the uptime that our clients demand. The barrier to entry can be low, with substantial efficiency gains and cost advantages,"
 says Woods.
Read the article 
here
.
Discover how 
Acquire's
 right mix of human touch and automation and AI can allow your business to thrive and stay relevant in the years to come. Click 
here
.