Acquire BPO
held its annual kick-off party last Saturday, 31 January 2015, at Function Rooms 4 & 5 of the SMX Convention Center in SM Mall of Asia. The company's largest annual event, hosted by local television host and showbiz personality Ryan Agoncillo, was a night celebrating the company's achievements from the previous year, as well as heralding an exciting year ahead. The kick-off party featured top-notch entertainment, overflowing food, drinks, and prizes, and a program honouring
Acquire
's employees.
CEO Scott Stavretis and Country Manager Dana Andel welcomed thousands of attendees to the event, talking about the achievements of the past year, the acquisitions that have helped us grow 7,000 strong, thanking everyone for their part in the company's growth and encouraging employees to continue performing strong as a team this year.Acquire employees were treated to a sumptuous dinner catered by Bizu, accompanied by overflowing wine. A mobile bar also served cocktails and local beer throughout the party. Several prizes were raffled off throughout the night, including a scooter, a new iPhone 6 and an overnight stay for 2 at Maxim Hotel in Resorts World Manila. The night's music was spun by DJ Nina of Jive Crew.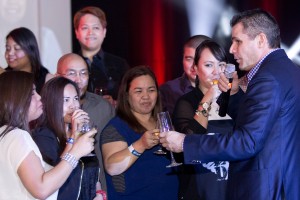 Honoring Acquire's EmployeesThe highlight of the Kick-off Party was to honour employees that have been integral in Acquire's growth, both in the past year and in the previous years. Stavretis and Andel handed out awards for the outstanding employees of each department.They were also joined by the Acquire community in honouring and applauding the employees who have been with Acquire for five years, whose names and photos were displayed on screen one by one as Talentadong Pinoy's Joseph the Artist gave a beautiful sand art performance.
Acquire's Got TalentThe 2015 Kick-Off Party also featured the Acquire's Got Talent Finals Night, where five finalists from different Acquire departments competed for a PhP 60,000 grand prize. The finalists' performances were judged by Stavretis, Andel, and radio and television personality Jeffrey "Mr. Fu" Espiritu.The competition was very tight, with all five acts showcasing their talents in singing, dancing, and even comedy, as their respective departments cheered in support. Two winners were announced at the end of the competition: Animation1's band Ed's Complicated came in as a runner-up with their rock rendition of the hit song "Chandelier" by Sia. The Acquire's Got Talent 2015 winner was Radaba Polo from Aggregato Global with her jaw-dropping performance of Whitney Houston's "One Moment in Time."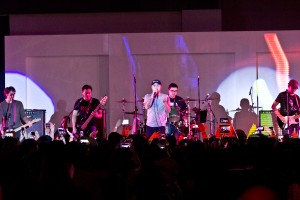 Musical PerformancesAfter the program, the Acquire family was entertained by multi-award winning local band Parokya Ni Edgar. Employees sang along as they were treated to an hour of the band's signature humour and their most popular and iconic songs, whose set list included Halaga, Para Sa'yo, This Guy's In Love with You, Pare, The Yes Yes Show and Bagsakan. Acquire's executives were spotted rocking out to the tunes of the highly-acclaimed band along with the employees.Following the mini-pop/rock concert, Acquire opened the dance floor with DJ Nina returning to spin the latest dance music for the night. She was accompanied by back-up dancers who led Acquire employees to burn up the dance floor with their best dance moves.
The 2015 Kick-Off Party was an overall success, with employees given a night to relax and enjoy the rewards of their hard work for the past year. It was a truly memorable start to a promising year for all members of the Acquire team.