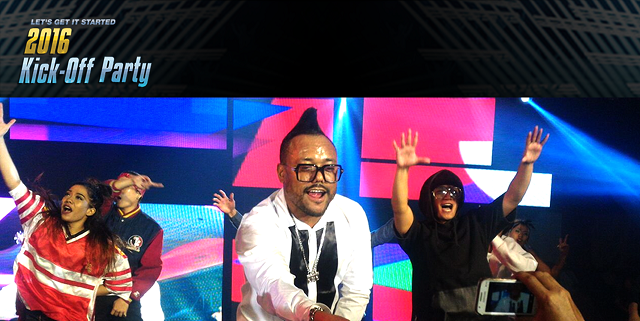 Last Saturday, January 23, 2016, it was all play and no work as the Acquire Group of Companies—Chief Executive Officer Scott Stavretis got the ball rolling and everyone's enthusiasm up by welcoming the group's employees, clients and VIPs. About 3,500 guests bonded, celebrated and relished the fine ingredients of an elite-level evening: perfect 10 entertainment, fancy prize giveaways and amazing company.
With the tagline, 'Let's get it started,' the party centered on a 'Video Music Awards' theme. And rightly so, because the larger-than-life event showcased the talent and artistry of Acquire's best assets—its employees. Various teams battled it out onscreen and onstage through song, dance and impersonation, for bragging rights and cold, hard cash. The Video Music Awards Video Teaser winners were picked based on number of likes and visual appeal, while winners of the live performance were judged according to dance performance, song performance, creativity, audience impact and online appeal. A total of P200,000 in prize money was given out at the end of the night. While all performances were nothing short of amazing, the SHORE team bested everyone else and came out the grand winner.
In between performances, Acquire's executives took to the stage to give away exciting prizes, such as a trip for two to Boracay and Ilocos, an iPhone 6s, Samsung Galaxy S6 Edge and iPad Mini 2.
Adding an extra snap, crackle and pop to the occasion, the audience was treated to an opening number from Iya Villania and World Hip-hop Dance Champions, the Philippine All Stars, and a performance by local music icon, Franco. The Acquire Jam songwriting winner also got to debut the company's first ever theme song and music video. The bar for awesome was further raised by special guest, Apl.de.Ap., bringing the house down with The Black Eyed Peas' classics like "Where is the Love" and "I Gotta Feeling". DJ Callum David kept the crowd up as he closed the night with electronic sounds and stunning visuals.
The event, which was hosted by actor, TV host and model, Luis Manzano, was surely a memorable one as guests partied the night away with a renewed sense of pride, as well as optimism for what lies ahead in 2016.