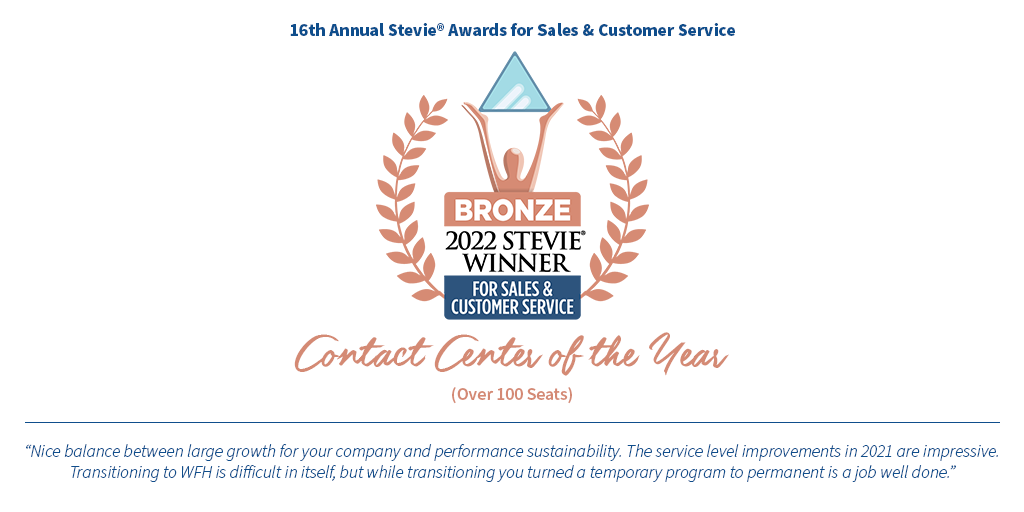 Acquire BPO won the Bronze Stevie Award for the Contact Center of the Year (Over 100 Seats) category at the 16th Annual Stevie Awards for Sales & Customer Service.
Acquire was recognized specifically for the success of our contact center partnership with a key client, a global entertainment and online gaming platform, with whom we're engaged for customer service and content moderation. The client's business grew by 120% within six months of the COVID-19 pandemic and they turned to Acquire to meet its support demands in various languages and across multiple country operations.
Out of 2,300 other nominations, the judges highlighted our ability to meet client requirements while providing performance sustainability. "Transitioning to WFH is difficult in itself, but while transitioning you turned a temporary program to permanent is a job well done," said one of the judges. The quality of Acquire's recruitment activity was noteworthy to another judge who said, "Ramping up from a smaller team to over 750+ is no mean feat and requires a diligence to acting quickly and with precision as you want to employee quality candidates." 
The Stevie Awards for Sales & Customer Service are the world's top honors for customer service, contact center, business development and sales professionals. The Stevie Awards organizes eight of the world's leading business award programs, also including the prestigious American Business Awards® and the International Business Awards®.
Winners will be recognized during a virtual awards ceremony on May 11.
"The nominations we received for the 2022 competition illustrate that business development, customer service and sales professionals worldwide, in all sorts of organizations, have continued to innovate, thrive and meet customer expectations during the COVID-19 pandemic," says Stevie Awards president Maggie Gallagher Miller. "The judges have recognized and rewarded their achievements and we join them in applauding this year's winners for their continued success."
Details about the Stevie Awards for Sales & Customer Service and the list of Stevie winners in all categories are available at www.steviewards.com/sales.