At Acquire BPO, we help brands across all industry verticals create safe online
communities for their end-users via expert human agents and powerful Artificial Intelligence (AI) technology.
People are spending more time online than ever before, consuming and generating content at breakneck speed. At Acquire, we understand the importance of moderating content to curate a safe and positive online environment for your customers. Our content moderation apporach combines highly skilled human agents with intuitive Artificial Intelligence (AI) technology to screen text, images, video and audio to determine whether they are offensive, violent, sexual or illegal. From social media channels to online gaming platforms, our comprehensive content moderation outsourcing solutions protect your brand's digital presence and drive customer loyalty.

Social media moderation
Real-time monitoring and filtering of User-Generated Content (UGC) across social media platforms like Facebook, Twitter, Instagram, TikTok and YouTube.

Online gaming moderation
Rules-based enforcement of content and community engagement guidelines across forums, chat rooms and gaming platforms.

Automated moderation
Efficient, 24/7 filtering of offensive words, phrases, images or videos across all digital platforms using Artificial Intelligence (AI) and Speech Analytics.
 

Build your 

content moderation 

team today
Outsource with confidence
Skilled moderators
Experty trained content moderators with an encyclopedic understanding of content guidelines to protect your brand reputation and credibility.
Intuitive automation
'Always on' bots to augment your content moderation strategy, designed and continuously tuned with machine-learning and analytics—at a fraction of the cost of traditional staffing.
Customer centric
Our business is built on exceeding our clients' expectations. We collaborate to build tailored content moderation solutions and get it right.
Right size fit
Transparent partnership engagement that adapts and scales as clients' business requirements evolve.
1st class security & tech
Redundant infrastructure; onshore data storage in highly secure and stable locations; industry-leading integrated and innovative web applications.
Sustainable scalability
Ability to rapidly scale content moderation campaigns based on seasonal demands and product launches, with a pool of experienced full-time and/or casual staff.
Moderating content with a human + bot approach
Learn how Acquire BPO effectively scaled a global, multi-language content moderation solution for a major entertainment and gaming client—supporting their mission to create a platform of safety and civility for its userbase.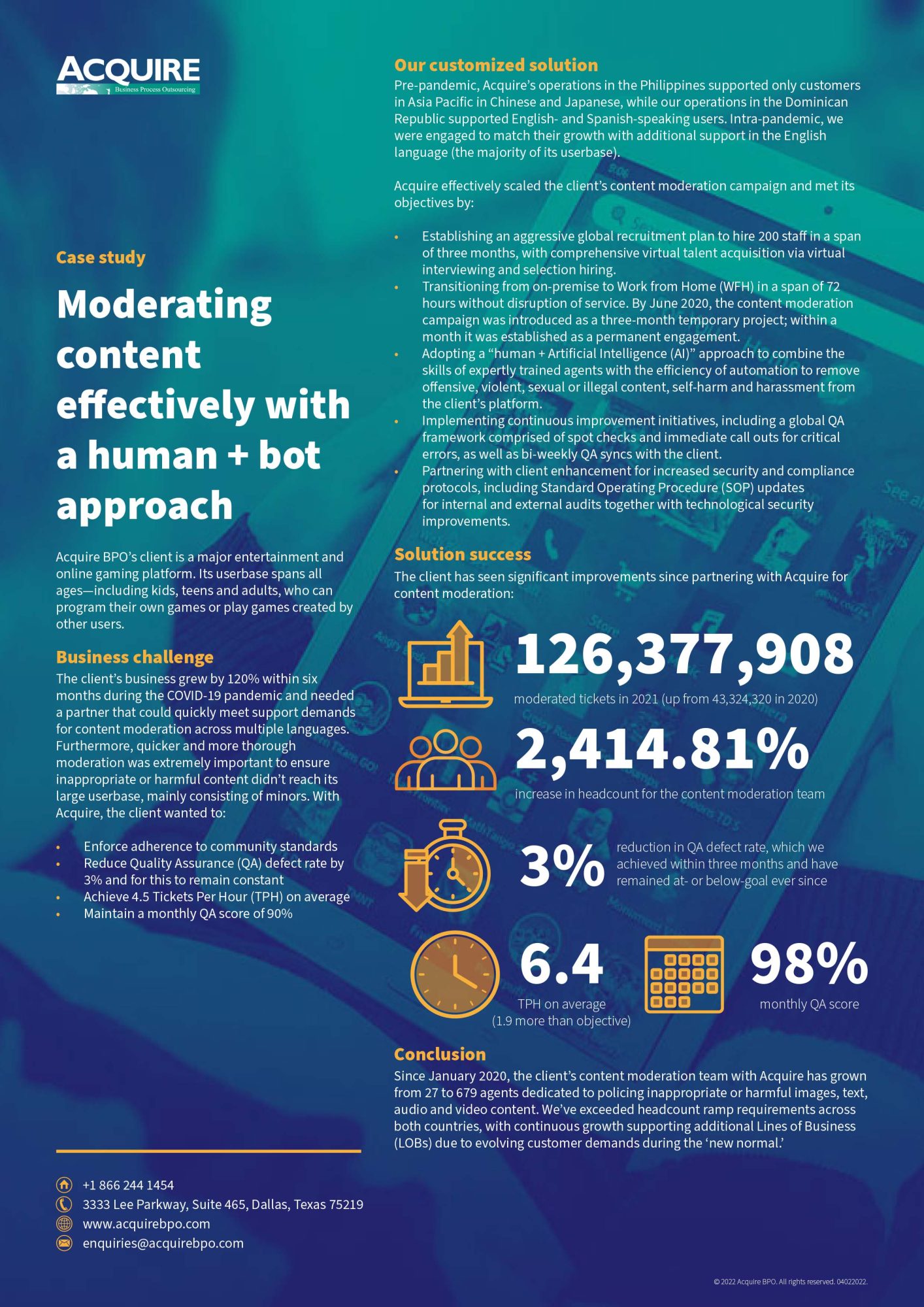 Let's
talk about content moderation