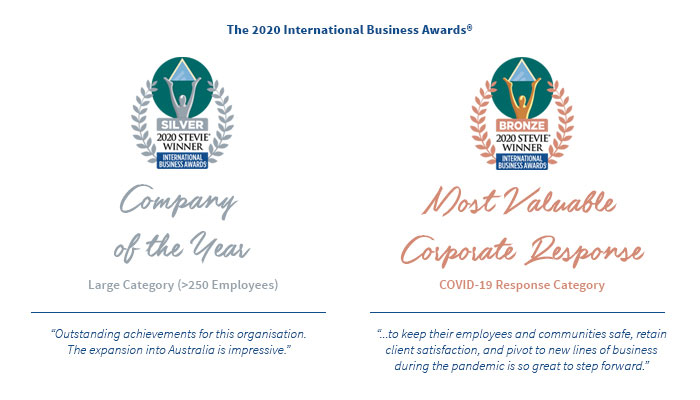 Acquire BPO
's domestic growth, service innovation and corporate responsibility were recognised at the 17th Annual International Business Awards® today—its fifth consecutive year in the winner's circle.
We won the Silver Stevie Award for the Company of the Year – Large category and the Bronze Stevie Award for Most Valuable Corporate Response in the COVID-19 Response category. These awards celebrate our achievements over the last year: expanding our onshore capabilities in Australia; driving a successful remote work model, Acquire@Home; adhering to strict certification standards for PCI-DSS, HIPAA and SOC1&2; and keeping our employees, customers and communities safe during the COVID-19 pandemic.
Acquire's ability to build client partnerships and effectively manage the well-being of our employees around the world set us apart from more than 3,800 other nominations. One of the judges said, "Acquiring new business whilst others are putting up shutters is amazing. Also the fact that you did not compromise your employees' safety and well-being makes you a good corporate citizen and an exemplar for others to follow."
Another judge commented, "The accomplishments of Acquire BPO are impressive; especially their ability to get the numerous certifications that are difficult, such as HIPAA and SOC, while making strategic acquisitions."
The International Business Awards are the world's premier business awards program. All individuals and organisations worldwide – public and private, for-profit and non-profit, large and small – are eligible to submit nominations. The 2020 IBAs received entries from organisations in 63 nations and territories.
The awards will be presented to winners during a virtual ceremony on Tuesday, December 1. To learn more about the Stevie® Awards, click here.