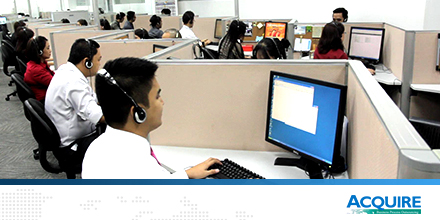 Offshore outsourcing is a relatively recent business phenomenon that continues to transform economies. Currently, the global outsourcing market is worth $90 billion, thanks to the large number of companies outsourcing their human resource, IT, and marketing operations.
Offshore outsourcing means relocating business functions from one country to another in order to achieve superior and sustained performance in a relentlessly competitive marketplace. Many companies now work with trusted outsource companies who specialize in business processes, and you should, too. There are many competitive advantages to offshore outsourcing, and here are four good reasons to consider it:
1.Be more equipped to compete
The business world is more interconnected than ever. As a result, companies now compete on a global stage where satisfying the constant demand for efficient customer service would set you apart from the rest. If you're not innovative and efficient, you'll fall behind.
Offshore outsourcing ensures that you have the resources necessary for your company's growth, without having to invest your hard cash in world-class infrastructure, the latest technology and real estate. It allows you to provide effective service-level tasks with flexible work schedules, as well as important services, such as 24/7 customer support.
Also, by choosing to move your business functions overseas, you will be able to leverage a pool of highly skilled and very qualified experts with experience and capabilities that you otherwise may not be able to hire locally. And because wages and benefits are lower in developing countries—the usual destination countries for offshore outsourcing—you can get significant cost savings when you take work offshore.
2.Increase operational capacity without the traditional overhead expenses
As your workload grows, so do your fixed costs, such as infrastructure, rent, utilities and many more. It is even more costly when you factor in the training, induction and management of human resources. An offshore outsourcing partner takes care of these day-to-day operational responsibilities at a fraction of the cost, so you can focus on your core functions while saving on valuable time and money.
Outsourcing doesn't just cut down your labor costs; it also reduces your other expenses, such as materials and shipping costs. By moving some functions overseas, you could save more on the cost of materials if your outsourcing company can obtain these materials for a lower price. Cutting down on shipping costs is also possible if the materials you need are readily available in the company's location.
3.Create new market opportunities
An 'in-country-for-country' approach enables your company to expand your business reach, access new target markets and be close to your end-users. Not only will your offshore outsourcing partner help you determine the best approach for market entry, but they will also provide the project management skills needed to implement the strategy.
4.Minimise risks
The right offshore outsourcing partner supplements your operations with disaster recovery mechanisms and detailed backup plans so you can rapidly respond to situations, such as natural calamities, accidents, market fluctuations or technical crises, and get operations back on track quickly. Not only that, should you wish to quickly expand your focus to another campaign, using a flexible offshore outsourcing partner will allow you to shift gears and make the transition easily.
A Job You Leave to Expert Hands
Outsourcing means entrusting important business operations to the hands of a third-party specialist. Some businesses make the costly mistake of considering outsourcing only when they've reached their full capacity; offshore outsourcing is just a Plan B that can hopefully handle the overflow of work.
"They might not do our job the way we do it," is a common excuse to delay outsourcing.
But as one of the major perks of outsourcing isn't just the extra pair of hands. Rather, it's the skill of said helping hands.
When you outsource your work, you'll be partnering with experts in human resources, marketing, IT, and more. Offshore companies only hire individuals who specialize in certain tasks, ensuring that they can replicate (if not do better) your operations.
Work with the RIGHT Provider
While outsourcing is a great way of improving business productivity, working with the wrong provider may hamper your operations and hinder your growth. During your search for a provider, look for the following factors:
• Experience. Work with a company who has a positive track record of satisfied clients. Ask for recommendations from friends or browse the Internet for reviews and testimonials.
• Aligned company cultures. It's easier to work with a provider who shares your core values, as well as understands your measures of success. An outsourcing company who is aligned with your culture will become an effective extension of your team.
• Technology. What infrastructures do they use? Are their systems reliable? Ask a potential company about their technology and backup plans in case of unprecedented breakdowns.
As companies race to scale their operations, some still opt to remain exclusively onshore, putting themselves at a competitive disadvantage to their competitors who are operating from a lower-cost offshore base. While these companies may remain competitive through aggressive process improvements and cost-cutting, their opportunities for growth and improvement are limited by closing their corporate minds to the many benefits of offshore outsourcing.