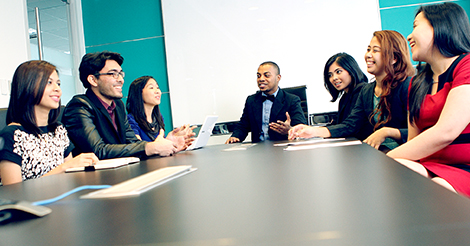 While countries like India, Singapore, Malaysia and Indonesia have all proven to be viable locations for outsourcing, the Philippines has been consistently making the most headway in the Business Process Outsourcing industry, leading in the offshore/nearshore English Contact Center Outsourcing (CCO) market with some 36% share. Having overtaken India as the top destination for voice services, the industry's contact centre segment remains the largest in the world, hitting an employment level of 630,000 in 2014.
The following factors have helped position the country as a BPO powerhouse:
Pools of global talent – The Philippine government has implemented a series of initiatives to support talent development in BPO. These include the Training for Work Scholarship Program that enables the IT industry to provide training for BPO applicants. BPO-specific curriculum in universities also guarantees a highly educated and qualified workforce with degrees in information technology (IT), business and the sciences. Recognised as the most westernised of the Asian markets and one of the largest English-speaking countries in the world, the Philippines was named the world's best country in business English proficiency in a report by GlobalEnglish Corporation. It also boasts a literacy rate of 95%.
Cost savings – With lower levels of wages and benefits, services can be produced at a significantly lower cost. Along with the lower cost of commercial property and infrastructure, including subsidies and tax breaks, organisations are better equipped to offer clients cost-efficient solutions.
Policy environment – The deregulation of telecoms, improvement of power supply infrastructure and tax exemptions are only some of the enabling policies and government incentives that outsourcers enjoy. The Philippine Development Plan, which runs from 2011 to 2016, has highlighted BPO as one of 10 high-potential and priority development areas. The government avidly supports the continued development of the industry and the creation of up to 1.3 million jobs and $25 billion in revenue by 2016.
Technology – BPO firms in the Philippines are increasingly shifting from pure voice services to multi-channel offerings that combine voice, email and online chat services, using sophisticated delivery models, such as Platform BPO and the cloud based Business Process as a Service (BPaaS). This is a strategic advantage that enables better management of customer interactions. Furthermore, a larger supply of software engineers will help the country upgrade its services in IT, while greater competition in the telecom industry will lead to more efficient Internet services.
Expansion of services – The BPO industry in the Philippines has diversified, now delivering services in a wide range of sectors and industries such as engineering, health care, legal, financial, etc. This also means that there are more skilled and educated employees who are capable of continuously growing and addressing requirements across a variety of industries. In 2014, the BPO industry reached 1.03 million in total employment.
This year, Metro Manila and Cebu City have once again landed in the Tholons Top 100 Outsourcing Destinations, ranking second and eighth respectively, while even more areas in the country continue to gain global attention.