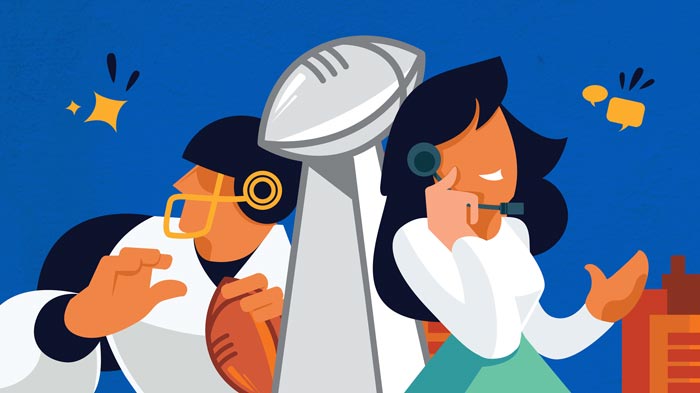 Updated November 29, 2019. The year may be different, but the debate remains the same: Should you outsource your customer engagement to a BPO call center or build a team in-house?  
Since our 2016 rundown of the benefits of call center outsourcing (more on that below), the industry has changed–and so have customer priorities. Now, as we approach 2020, let's revisit and discuss why it's important now more than ever to outsource your call center.  
Integrating new technologies 
Integrating new contact center technologies to your existing infrastructure is a complex process that can easily eat up your time and resources. By outsourcing your call center, you won't have to worry about updating your technology. Your partner should handle the adoption and integration of these technologies with ease.  
Meeting compliance standards 
Working towards various industry and security standards compliance can be a challenge, especially if you aren't familiar with the process and do not have the requirements prepared. An outsource provider will already have acquired the necessary certifications and compliances to operate in your industry, relieving you of the responsibility – all while maintaining high quality service and protecting your and your customers' data.  
Automating business processes  
Automation is in high demand among businesses today and this technology can augment your current customer engagement initiatives while making your processes more efficient. An outsourced call center with automation capabilities can help you select, develop and implement technologies such as chatbots and voice recognition to improve customer experience delivery.  
Revisit the other reasons below:   
While everyone is getting fired up with the frenzy that is Super Bowl 50, aka the single biggest sporting event of the year, we're playing the moneyline in the ultimate face-off of customer engagement: keeping call centres in-house versus call centre outsourcing. 
As we all know, to survive and thrive in today's competitive market, it is just as important to retain customers as it is to acquire new ones. This is where the call centre comes in. It acts as a business enabler, where every interaction affects overall customer experience and brand perception. An insightful study by customer intelligence consulting firm, Walker, reveals that by 2020, customer experience will overtake price and product as the key brand differentiator. Customer service should, therefore, always stay top of mind. 
Embracing all things Super Bowl on kick-off day, here's a play-by-play of how call centre outsourcing scores more touchdowns: 
Cost efficiency 
Outsourcing, essentially, turns fixed costs, such as infrastructure, rent and utilities, into variable costs. In some cases, this could mean up to 50% cost reduction of what in-house operations would cost. This is because the service provider takes care of these expenses at a fraction of the price. With significant cost savings, businesses are then better equipped to offer services at competitive rates. 
Business focus 
An outsourcing partner can take over routine responsibilities, such as recruitment, training, induction and management of call centre agents. Doing so allows movers and shakers to concentrate more on what they do best—running and growing the business. 
24/7 service 
Outsourcing call centre operations to an offshore provider gives companies access to a follow-the-sun workforce and a 24/7 global presence. That way, customers' needs are met and seamless care is delivered throughout the world. On the other hand, 100% uptime done in-house would cost double the amount, thus, reducing the bottom line. 
Relief from call overflow 
Every call is an opportunity, and missing calls from customers could send them straight to the competition. An external location with an abundance of staff can accommodate call overflow during peak periods and sudden spikes, and achieve better first call resolutions. According to SQM Group, a 1% improvement in first call response could mean $276,000 in annual operational savings for the average call centre. 
As the frontline of the customer's experience, and oftentimes the only interaction with the company, many enterprises invest heavily on call centres. Currently, Everest Group pegs call centre operations spend at $300-350 billion. But when it comes to the decision of having it in-house or outsourced, there is no question that an experienced outsourcing vendor can provide you with everything you are looking for as regards customer service, and much more. Also, through outsourcing, you can get your products to the market faster than the competition. 
Stay ahead of the curve and advance the bottom line through excellent customer service. Clearly, call centre outsourcing promises a win. Learn more about Acquire BPO's results-driven call centre solutions: https://acquirebpo.com/contact-centre-outsourcing/