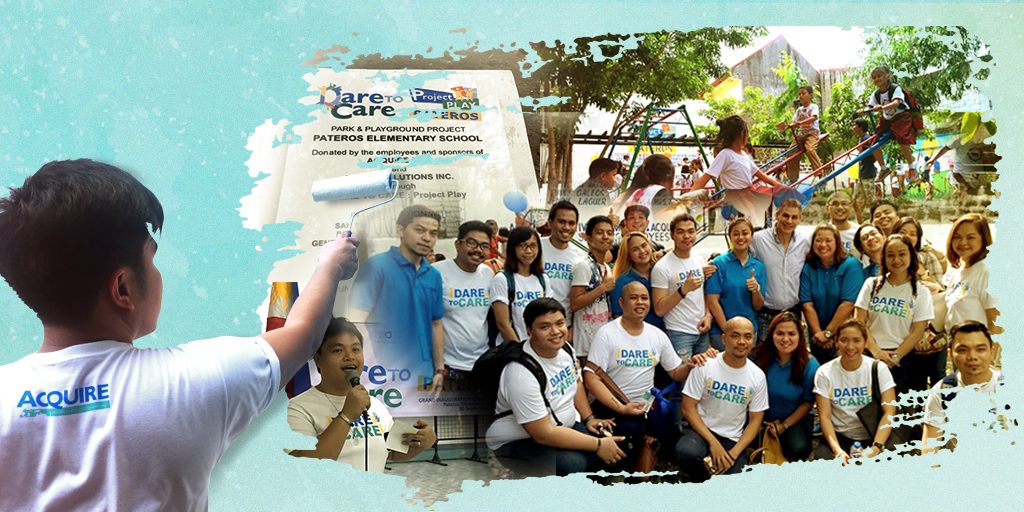 On September 30, 2016, Acquire inaugurated its Dare to Care's Project Play: Pateros playground and park at the Pateros Elementary School.
This project turned a 300 square meter vacant land into a park and playground for the enjoyment of over 2,500 students, with employees from Acquire, SHORE and Animation1 participating in its construction and completion. This is the second park and playground project for Acquire, the first being Project Play: Karangalan in Cainta, Rizal, which was inaugurated late 2015.
The inauguration was hosted by QK Torralba, Acquire's HR & Employee Engagement Manager. The crowd, with members of the school community, as well as Acquire representatives, were welcomed by Dr. Irma E. San Pedro, Pateros Elementary School's Principal and the school faculty. The program included a special message from Acquire Country Manager Dana Andel, a testimonial from Acquire employee Cris Arteza (who is an alumna of the school), awarding of winners of the poster-making contest, intermission numbers from the Pateros Elementary School SPED Students and Acquire All Stars Dance Crew and the playground blessing and ribbon-cutting ceremony.
Dare to Care is Acquire's official CSR program that covers all corporate outreach activities, including playground construction initiatives, blood drives, etc.