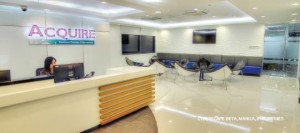 Not content with growing from 4,000 to 7,000 employees last year through its 2014 acquisitions of top visualization studio
Animation1
and leading business process outsourcing (BPO) provider
SHORE Solutions
,
Acquire BPO
is projecting continued huge growth in 2015.
As headcount growth accelerates, Acquire has been opening prime facilities at a fast rate to meet clients' growing demands. Acquire has opened three new facilities in Metro Manila in the last few months: in Eastwood, Shaw Boulevard and Robinsons Cyberscape Beta, and is expanding globally with the launch next month of its first U.S. office in the first quarter of this year. In addition to BPO facilities, Acquire is poised to open this month its third recruitment center at Robinson's Cyberscape Beta. The mezzanine-located center boasts of modern sourcing technology for a faster and more convenient application process.
By the end of 2015, Acquire will have multiple facilities in three continents across the globe: in the Philippines (Asia), Australia, and the U.S. (North America) to service its clients from a wide range of industries. Acquire's suite of quality services is also broad and comprehensive: call center, BPO, knowledge process outsourcing (KPO), IT and professional services, resale of SAP-SuccessFactors HCM cloud solutions, animation and marketing services.
Read more at: https://www.tribune.net.ph/business/acquire-to-keep-growing-in-2015