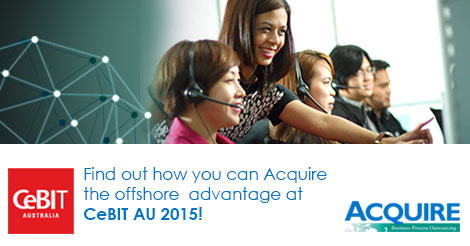 CeBit Australia , touted as the largest event in Asia Pacific, returns this year to connect global business leaders and disruptive innovators with a shared interest in business technology. The event will take place at the Sydney Olympic Park on 05-07 May 2015 and over 20,000 visitors are expected to attend. Acquire BPO , Australia's largest outsourcer to the Philippines, will be present at CeBIT Australia to talk about the benefits and future of offshoring.
CeBIT Australia 2015 will feature an outstanding line-up of keynote speakers who will discuss the future of business from industry, government, and technology perspectives.
This year's event features ten success-critical conferences bundled into three daily master themes:
• Digital Business Transformation, comprised of Social Business, Mobile Engagement, and Big Data & Analytics conferences
• Digital Business Technologies, comprised of Cloud, Enterprise Mobility, and Cyber Security conferences
• Disruption, comprised of conferences on the Internet of Things and the Data Centre Summit
Visit the Acquire booth (K30) to find out how businesses have successfully acquired the offshore advantage. We have a 7,000-strong global workforce, a keen focus on operational excellence, world-class facilities and rigorous compliance to regulatory standards. Join us at CeBIT 2015 as we share our vision on the future of business technology and learn more about how our services contribute to the advancement of businesses around the world. See you all there!