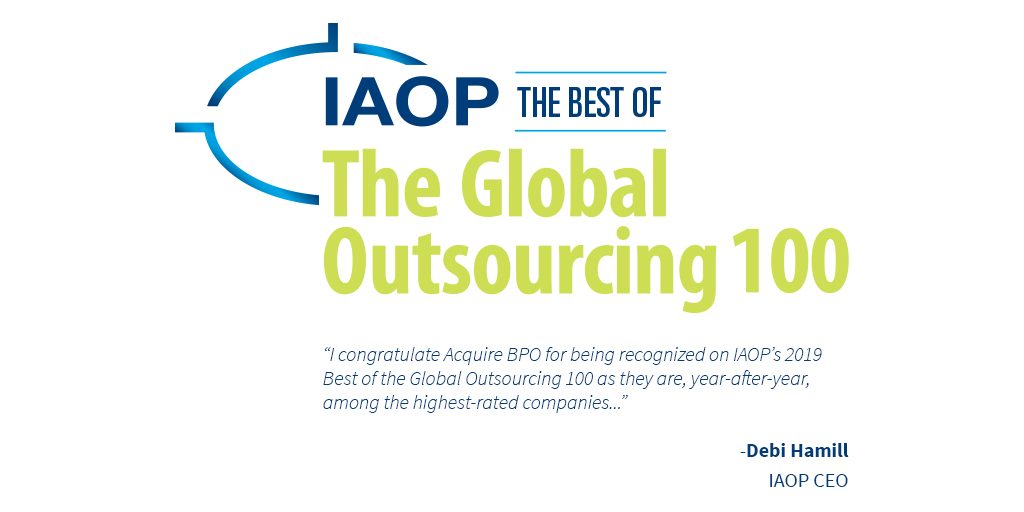 Acquire BPO has once again made it to the prestigious International Association of Outsourcing Professionals® (IAOP®) Global Outsourcing 100. This year, IAOP focused on recognising consistent top achievers in the industry with the Best of GO100. It's Acquire's third year in a row in the much-coveted list of BPO leaders and advisors, which was announced last 19 February at the 2019 IAOP Summit held in Orlando, FL.
"For the last two years, we have been proud to be named as the only Australian company on the world's best outsourcing providers list by IAOP. This year we are especially honoured to be named among the best of the best of those providing the full spectrum of outsourcing services," says Acquire CEO Scott Stavretis. He adds, "Inclusion in this prestigious list fuels us to innovate and grow further. It affirms our mission to deliver outstanding value to our clients and their customers, adapting to changing technology and processes and enriching employee development. This honour is for our hardworking and dedicated global team of 7,000."
Last year, Acquire bagged the 2018 IAOP Global Outsourcing 100 award for the Top Company for Customer References, the 2018 Contact Centre Week Excellence for Best People Strategy & Culture, the 2018 Asia CEO Awards Service Excellence for Company of the Year, and the 2018 International Business Awards for Gold Stevie award for Most Innovative Company of the Year.
IAOP is a widely recognised association that brings together customers, providers and advisors in a collaborative, knowledge-based environment promoting professional and organisational development, recognition, certification and excellence.
Please click here for the full list.