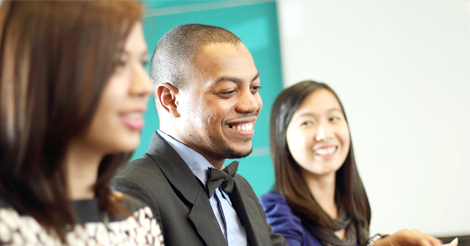 It's an exciting time to be job hunting in the Philippines. The economy is one of the best performers in the world, with the business process outsourcing (BPO) industry as one of the country's prime growth engines.
The Philippines is fortunate to have a young and skilled population. A survey by branding expert Dan Schawbel characterises the youthful generation of "millennials" as ambitious, iconoclastic individuals who know what they want and are willing take extra measures to achieve optimal results.
On the other hand, young professionals, ages 20 to 24, are nearly three times as likely to leave a job within a year than those between 45 to 54 years of age. This tendency to "job hop" is attributed to their desire to try different skill sets and find their niche in the marketplace.
Individuals looking for a stable, fulfilling career need not look further. Acquire is among the fastest-growing BPO companies in the Philippines and is Australia's largest outsourcer to the country. Since we opened in 2005, the company has changed and expanded significantly. We have dynamic operations teams in the Philippines and Australia – and we now also have US nearshoring capabilities in the Dominican Republic. We recruit individuals in different functions to service the requirements of our clients from a variety of industries.
Why work at Acquire? Here are four reasons why:
1.Build a career
Workforce2020, a report released by Oxford Economics and SAP, researched what millennials in the workforce want from their companies, their bosses and their jobs. It states that when it comes to job satisfaction, millennials see meeting career goals as important. Acquire gives professionals the freedom to choose and cultivate a career in any of the company's various client functions including sales, customer service, technical support and back office work, among many others.
Through learning and development programs, Acquire makes it easy for you to move up the corporate ladder. We provide comprehensive mentoring and training to our people who show unwavering dedication and exceptional talent to prepare for transition to higher positions.
2.Achieve work-life balance
Most employees in the BPO industry have difficulty balancing their life and work since most BPO operations happen at night or the wee hours of the morning. We recognise the need for more flexibility in the BPO workforce, and have, thus, come up with more employment options. Professionals and specialists have both the night and day shift options, in our strategically-located facilities.
And Acquire is not all about work—we also organise a lot of fun activities and opportunities to spice up the work environment. Acquire has regular sports activities and competitions. We also throw annual parties and events where employees get to know each other and bond over food and drinks.
3.Receive competitive compensation
We know compensation matters. Workforce2020, based on feedback from 5,400 executives and employees in more than 27 countries, revealed that 68 percent of millennials and 64 percent of non-millennials view compensation as an important or very important benefit. Moreover, 41 percent of millennials say that higher compensation can help increase their loyalty and engagement with the company.
Acquire rewards employees with above-average compensation (up to 86% more than other companies) and benefits packages. We also put a premium on our people's health. Our employees are enrolled under superior life and accident insurance plans upon their start date. They also gain access to health insurance plans on their third month, and may enroll two of their dependents on their sixth month.
4.Work with people you trust
Competitive compensation is important no doubt, but when it comes to finding the ideal workplace, the adage "money can't buy happiness" holds true. The Great Place to Work Institute, a company involved in the research of workplace culture, maintains that money is not the sole determinant that keeps employees happy.
According to the Institute's report, many factors affect employee satisfaction, but ultimately, it is still happiness and a sense of fulfilment that make employees stay for the long haul. The report said that the most important contributor to a good work experience is when employees see the workplace as a place where they trust the people they work for. Employees are most engaged when they take pride in what they do, and enjoy the people they work with.
Acquire BPO is more than just a place where individuals can find the elusive financial freedom. Our company is also a place where strong friendships are formed, and where employees are appreciated and continuously rewarded for their hard work.
Find out how you can be a part of our team at www.Facebook.com/AcquireCareers.